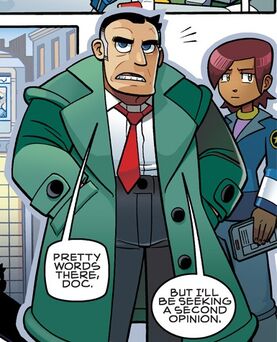 Gilbert Stern
is a member of the police force who were in charge of relocating
Dr. Wily
to another prison. Gil, along with his partener
Roslyn Krantz
, was present when Dr. Wily made his great escape, and quickly pointed the finger of blame at
Dr. Light
. Gil has been on the force for longer than any of his colleagues can remember and is some-what old fashioned. He does not like the idea of robots with personalities and dislikes it when Dr. Light refers to
Rock
and
Roll
as his "children".
He seems to have a close enough relationship with his partner that he decides to take Roslyn to a restaurant after her original date bailed on her. At the restaurant he meets up with Dr. Light and Dr. Lalinde and they discuss the ethics of giving robots emotions of love. He even sides with the Emerald Spears.
In the short circuits for issue 7, it jokes about Gil not liking cordless phones or toasters when they came out (even wondering where the bread went when the toast came out).
Ad blocker interference detected!
Wikia is a free-to-use site that makes money from advertising. We have a modified experience for viewers using ad blockers

Wikia is not accessible if you've made further modifications. Remove the custom ad blocker rule(s) and the page will load as expected.