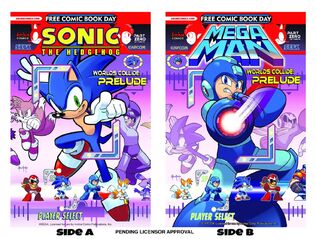 previous issue <--------------> next issue
This is the second Mega Man FCBD special, and the seventh Sonic the Hedgehog FCBD special. It acts as a prelude to the "worlds collide" crossover event and tells the story of sonic on one end, and Mega Man on another.
The sonic end of the comic is a (not full) re-print of sonic the hedgehog issue 247
The Mega Man end of the comic is a (not full) nre-print of Mega Man Issue 23
Both re-prints start on page 12 of their orignal issues
Ad blocker interference detected!
Wikia is a free-to-use site that makes money from advertising. We have a modified experience for viewers using ad blockers

Wikia is not accessible if you've made further modifications. Remove the custom ad blocker rule(s) and the page will load as expected.