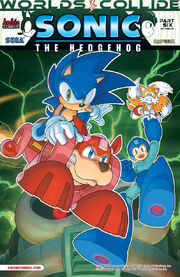 previous part <-----> next part
This is the sixth part of the 12 part crossover event: "Worlds Collide".
"The crossover mega-event reaches its half-way point! On the eve of Sonic the Hedgehog's landmark 250th issue, Sonic, Tails, Mega Man and Proto Man are confronted by Drs. Eggman and Wily and the eight Roboticized Masters! Why do they look so familiar to Sonic? Do our heroes even stand a chance?! Featuring stunning new cover art from Patrick "SPAZ" Spaziante, and a special 16-Bit pixel art variant cover!"
Ad blocker interference detected!
Wikia is a free-to-use site that makes money from advertising. We have a modified experience for viewers using ad blockers

Wikia is not accessible if you've made further modifications. Remove the custom ad blocker rule(s) and the page will load as expected.