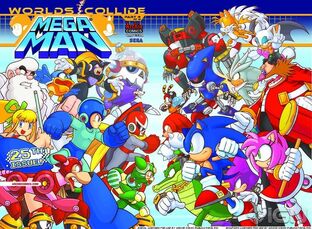 Archie Mega Man Issue 25 is the twenty fifth issue of the Archie Mega Man series.
previous part  <-----> next part
previous issue <--------------> next issue
This is the fourth part of the 12 part crossover event: "Worlds Collide ". It is also the first milestone event in the Archie Mega Man series, and the first to feature a gatefold cover.
"It's Sonic versus Mega Man – Round Two! Celebrate 25 issues of Mega Man with the throwdown brawl to end all throwdown brawls! The Blue Bomber has the home field advantage this time – can Sonic keep up in this unfamiliar city? Meanwhile, Drs. Eggman and Wily make their boldest move yet in their master plan! This milestone issue marks the dramatic conclusion to the first act in the biggest crossover story of 2013! Featuring a stunning gatefold cover by Sonic/Mega Man art legend Patrick Spaziante, and a special "E.F.F. (aka Evil Friends Forever) variant" featuring Drs. Eggman and Wily on a (presumably evil) bicycle built for two!"
Ad blocker interference detected!
Wikia is a free-to-use site that makes money from advertising. We have a modified experience for viewers using ad blockers

Wikia is not accessible if you've made further modifications. Remove the custom ad blocker rule(s) and the page will load as expected.