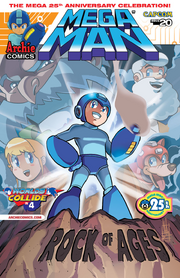 Archie Mega Man Issue 20 is the twentieth issue of the Archie Mega Man series.
previous issue <--------------> next issue
This is the second stand-alone issue of the series: "Rock of Ages".
This comic was a tribute to a 25th year anniversary for Mega Man. It essentially goes through all the games briefly (except for Mega Man 5) using time travel. It hints at stories to come while also including the character Bass as a way to introduce him before his official debut during Mega Man 7 and his unofficial introduction in the crossover.
This issue features many cameo appearances of characters who have not appeared prior to this issue, such as Bass.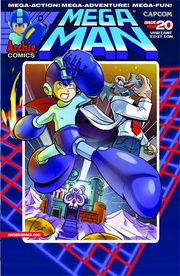 Ad blocker interference detected!
Wikia is a free-to-use site that makes money from advertising. We have a modified experience for viewers using ad blockers

Wikia is not accessible if you've made further modifications. Remove the custom ad blocker rule(s) and the page will load as expected.