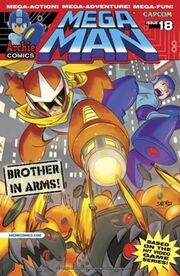 Archie Mega Man Issue 18 is the eighteenth issue of the Archie Mega Man series.
previous issue <--------------> next issue
This is the second issue in the "Proto-Type" story arc.
Key Events
Edit
Story One
Edit
(In Flashback) Blues -running low on power- goes back to Dr. Light to find him hugging Rock and Roll
Thinking he has been replaced, he leaves to find somewhere to die
He triggers a proximity alarm and is found by Dr. Wily's Robot Masters
Story Two
Edit
Guts Man won't listen to Ice Man and Ice Man ends up freezing him
Dr. Light begins work on Splash Woman
Ad blocker interference detected!
Wikia is a free-to-use site that makes money from advertising. We have a modified experience for viewers using ad blockers

Wikia is not accessible if you've made further modifications. Remove the custom ad blocker rule(s) and the page will load as expected.